Turbocompressors
R&D Dynamics designs, develops and manufactures oil-free, foil air bearing supported turbocompressors that are turbine-driven for various applications.
Features:
Clean, Dry, Completely Oil Free Process Gas

Long Service Life

High Efficiency

High Reliability

Low Noise & Vibration

Small Size

Lighter Weight

Low Operating Cost
Applications:
Fuel Cell System Pressurization
Aircraft Turbochargers
Turbochargers for Automobiles and Trucks
Please contact R&D Dynamics for your needs.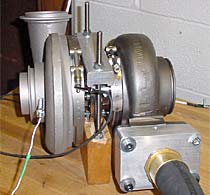 Turbocompressor -for AUTOMOTIVE Fuel Cell
Our Products
Customer Support
With 24/7 customer support services, R&D Dynamics guarantees immediate response. We will stay focused on your needs until the problem is resolved.
---
Call (860) 726-1204